Model United Nations Debate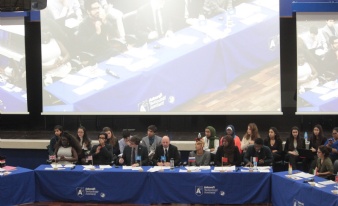 Our fourth annual Model United Nations simulation was held on the Thursday 1 December. A record 15 nations took part in the debate "To reach a comprehensive, long-term and proper solution to the global refugee crisis".
The standard of research, public speaking and debating this year was better than ever, with some genuine rhetorical talent on show. The assembly voted on several resolutions: the proposals to call for President Assad of Syria to step down; a quota system for taking in refugees and the building of a refugee city were all denied. A call for the establishment of refugee safe zones maintained by the UNHCR was passed unanimously.