Jack Petchey 'Speak Out' Challenge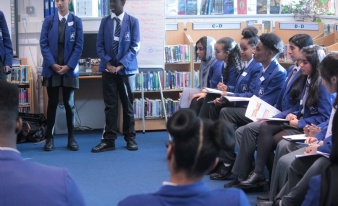 Year 10 students enjoyed a speaking and listening workshop this week led by trainers from the Jack Petchey Speak Out Foundation.
The workshop consisted of numerous activities to help improve their essential skills for public speaking. Eight students were chosen to go through to the next stage - delivering their speeches at a Year 10 assembly. Two will finally be chosen to respresent Ashcroft Academy at the 'Speak Out' Wandsworth Regional Final next year.