Adisa the Verbalizer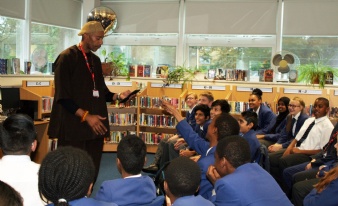 In celebration of National Poetry Day, performance poet, Adisa the Verbalizer, visited the Ashcroft LRC to present his poetry to enthusiastic and excited students from Years 7, 8 and 9.
Adisa wowed his audience with his special brand of thought provoking verse and encouraged students to participate by finishing lines of his poems. Such was his popularity that students queued after his sessions for a chance to talk with him and receive his autograph.