ATA Medical Society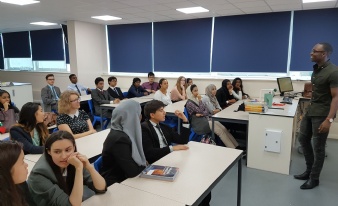 On Thursday, former Deputy Head Student, Daniel Oluboyede addressed the ATA Medical Society.
Twenty three Year 12 students who are considering studying medicine attended the interactive seminar. Daniel, who begins his Medical degree at Cambridge this year, having achieved 3 A*s, gave the students current relevant information and advice about how to begin the process of successfully applying to study in this field. The students were encouraged to consider the pros and cons of working as a doctor as well as considering their own personal motivation for seeking to pursue this career. Advice was given on further reading, exams and ways to secure vital work experience.
The students and Medical Society much appreciate Daniel giving up his time to share his knowledge and experience.
.