Arts Week - Ashtival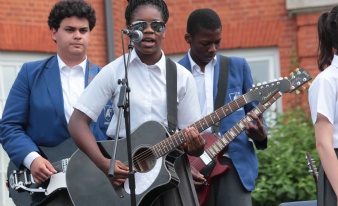 A lovely warm afternoon, green grass to relax on, first class entertainment, appreciative audience – a perfect end to Arts Week.
The talent was phenomenal with a plethora of music and vocal contributions from all year groups. The festival began with 'Grace Notes', our KS3 choir, looking cool in their sunglasses, singing a harmonious version of Walking on Sunshine (very apt for the day) and Don't Worry About Me.