Excellent Maths Achievement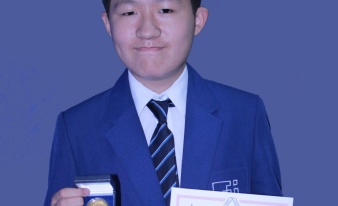 Well done to Year 8 student Ted Xiong who was awarded his medal and certificate for the UK Junior Mathematical Olympiad competetion during the Year 8 assembly this morning.
Ted has done remarkably well on the challenging Junior Mathematical Olympiad. This is the second round of a maths competition taken by our best year 7 and year 8 students. The paper is difficult and contains complex questions that many sixth form students would struggle with, taking roughly a side of A4 to answer each question. Ted answered the majority of questions correctly and scored 62 marks from a possible 70! This is such a good score that he was awarded the gold medal for achieving amongst the top 30 students in the country.