Music trip to Horniman Museum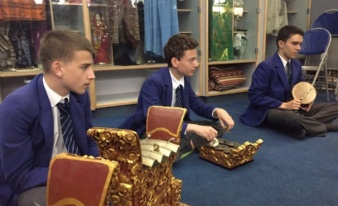 On Friday 24 June Y9 GCSE Music visited the Horniman Museum in Forest Hill to visit their gallery of musical instruments and take part in a Gamelan workshop.
Whilst they were in the instrument gallery theywere approached by a member of the museum staff who told Ms DiBartolo that she had been working at the museum for ten years and had never seen such a well behaved class!
In the Gamelan workshop the students learnt that Gamelan is the traditional music of Indonesia and played instruments from a Gamelan set made in Bali. The class were able to use the ensemble skills that they have been developing over the past year to create a successful, and very musical, performance. This trip was part of the students 'Bronze Arts Award' and Ms DiBartolo looks forward to seeing their write ups and reflections on the trip!