House Balloon Debate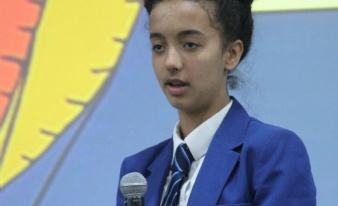 The audience were asked to imagine four famous people in a balloon soaring up into the sky when it became clear the balloon was not capable of carrying four people, but only one. Which one should stay?
The speeches were fantastic and eloquently spoken in front of a live and video-streamed house assembly. Judges had the unenviable task of choosing a winner. After much deliberation Year 9 student Naia Okeke portraying Polly Toynbee with a speech on 'Equal pay for men and women' won the day whilst Ted Xiong as Thomas Edison received a special commendation as the 'Principal's Favourite'.