'The 39 Steps'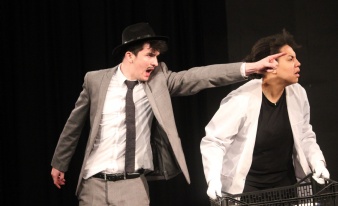 For their final performance the Year 13 Performing Arts (Drama) group highly amused their 'fans' with their comedy stage adaptation of John Buchan's 1915 novel 'The 39 steps'.
A brilliant and funny finale for a fantastic fearless quartet of actors - Sophie Bradford, Abby Coppard, Adam Trzcinski and Kymbali Williams.
The story of 'The 39 Steps' follows Richard Hannay (played brilliantly by Adam), a bored London gentleman whose life suddenly becomes infinitely more interesting when a woman is murdered in his apartment. Who is she? Why did she take refuge with him? And what are the mysterious 39 Steps? Framed for her murder, Hannay flees London for Scotland on a mission to find out the answers to these and other questions. Along the way he comes across an assortment of unusual and mysterious characters and is reluctantly accompanied by prim Pamela, who inadvertently finds herself handcuffed to Hannay.