Sports Report - February 2020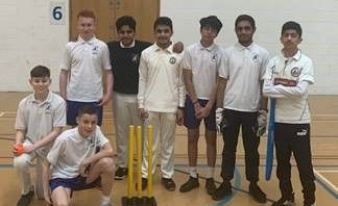 Please find below a report of the sports and activities that have occurred in the PE department during the month of February. Thank you in advance for taking the time to read this and congratulating the students involved, and please do feel free to encourage students to attend clubs, fixtures and fitness.
Years 7 – 10 Cricket
On Thursday 27 February, selected schools from Wandsworth, Lambeth and Southwark boroughs were invited to an indoor cricket tournament. It is a slightly different format from the summer competition but the fast pace certainly is an exciting form of the game, and gives students' opportunity to practice their skills in a competitive environment.
A first experience for our under-13 team. After an extremely tentative start, it was nice to see students participate with a little more confidence as the competition went on, and this was reflected in our scoring. Even though Ashcroft lost all three of their games, the progress of runs scored was evident to see – 10 scored against Bishop Thomas Grant; 17 scored against Kingsdale and our largest score of 34 against Elmwood- all from 24 balls faced. On a positive note, the bowling performances of Subhan Sabboor 7t2, Ammar Sabry 7t2 and Ali Kashif 7t7 were very encouraging. Well done also to Arslan Sabboor 7t1 and Sameed Tahir 8t5 and I look forward to more intense training after the Easter break.
Ashcroft's under-15 team displayed very good bowling performances, but the main target for the summer is to develop their batting techniques and scoring abilities. In fact, Ashcroft took the most wickets of any other school, with a total of 14 wickets – the next best bowling performance was that of 8 wickets! The competition started brightly with a 20 – 19 run victory over Bishop Thomas Grant, and Ashcroft finished with their second win of the competition with a 52 – 49 run victory over The Charter School. Two losses to Ernest Bevin (49-66) and Chestnut Grove (40-47) meant that Ashcroft finished third on the afternoon. Well done to Sarib Jajja 10t6, Issam Azizullah 10t6, Mashhood Khokar 10t7, Nosh Jajja 9t6, Shiv Bhari 9t1, Kai Jennings 9t6, Nedo Delo 9t4 and Issac Gamble 9t1.

Year 8 boys' Football
A positive first half performance from the year 8 boys' football team, and noticeable improvement from our previous match. Finding ourselves 1 – 0 and 2 – 1 down versus Ark Putney Academy, two great goals from James Hall 8t3 levelled the score 2 – 2 at half time. However, a frustrating second half where individual errors found Ashcroft in deficit of 5 goals to 2. At least it was pleasing that the team did not give up, with Lucas Balogun 8t7 scoring and the game ending 5 – 3. It could have been slightly more encouraging had Lucas and Sameed Tahir 8t5 not had late goals ruled out for off side.

Years 8/ 9 girls' Football
We are so pleased with the progress our girls' have been making in their Football. Our year 8's & 9's were given a real push when they competed in the year 10 & 11 Futsal tournament at Burntwood School, stepping up their game and putting on a display to be proud of. With a 0-0 draw to Ursuline and a 3-0 loss to Ark Putney, we came 3rd on goal difference making it our most successful tournament to date. Well done to all the girls - Glenda Ansu 9t1, Myia Williams 9t2, Witness Robel 9t5, Dunya Shabaz 9t5, Sundas Waheed 8t6 and Jamilla Hassan 8t4. An extra well done to Amelie Archer 9t4 for playing in goal for the first time and playing extremely well. We look forward to continued development and participating with success next year within your specific age group.

Year 10 boys' Football
I am pleased to note a win for the year 10 boys' football team, especially after a below-par performance in their previous game. Ashcroft defeated Harris Academy Battersea by 2 goals to 1 in the Wandsworth league with goals coming from Omari Rookwood 10t4 and Danish Malik 10t4. It was a particularly even game but the ability and resilience of Ashcroft students meant that we finished the game in good fashion. A win from our final game versus Ark Putney Academy should be enough to qualify for the borough finals.

Year 7 Netball
The Year 7 Netball girls took part in a recent competition hosted by Chestnut Grove School. Ashcroft fielded two teams, A and B. With a rise in students participating in our netball club on a Monday after school it shows positive progression to be able to bring two teams to this competition. The Ashcroft A team were successful against Graveney School, Ashcroft winning 3 goals to 2. The second match against Chestnut Grove was more challenging, the score finishing Ashcroft A (1) vs Chestnut Grove (6)
Ashcroft B results were as follows: Ashcroft B (0) vs Graveney (5), Ashcroft B (0) vs St Chestnut Grove (7) .The Ashcroft B team are continuing to develop as a team, and they welcomed new players at this tournament - well done to Renee Bonsu 7t4 for her first performance.
Special mention to Mia Goma Weinberg 7t1 in the Ashcroft A team for a strong performance displayed in new position as centre.
Well done to all the Ashcroft players for showing positive sporting behaviour and attitude during some challenging matches.

Year 8 Netball
Well done, yet again, to the year 8 girls' Netball team who defeated St Cecilia's 15 – 8 in the South London league. Our goals being scored from the impressive partnership of Emese Parti 8t5 in Goal Attack and Lottie Dyer 8t7 as Goal Shooter. Assured defensive displays from Lottie Harvey 8t1, Avni Bakre 8t3 and Katie Hughes 8t2, alongside excellent linking from Lois Johnston 8t4. And finally valuable contributions from Margaret Amara 8t5 and Angel Deugoue 8t5.

Harvey Mansiamina 10t2
Congratulations to Harvey who has qualified to represent London Schools Athletics in the English Schools Cross Country Championships at Sefton Park in Liverpool on Saturday 14th March. He qualified with an extremely impressive time of 16 minutes and 41 seconds for a 4.7km run at Woomwood Scrubs on Wednesday 5th February in what was very difficult conditions – the wind and rain making the ground saturated and energy-sapping – putting this time into even better perspective! I would like to take this opportunity to wish Harvey the very best in Liverpool.