Sports Report - January 2020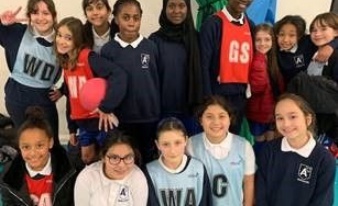 Please find below a report of the sports and activities that have occurred in the PE department during the month of January. Thank you in advance for taking the time to read this and congratulating the students involved, and please do feel free to encourage students to attend clubs, fixtures and fitness.
Year 7 Netball
We are so pleased with the progress that this group of students' has made since the beginning of the year. On this occasion, the winners of this borough tournament would go on to represent Wandsworth in the London Youth Games. From the six games in their pool, Ashcroft 'A' were victorious in four – winning against Burntwood, Chestnut Grove, Southfields and Graveney. They recorded one draw against Ark Putney Academy and suffered one loss to St Cecilia – unfortuanelt just missing out on the final. Special mention to Florima Toure 7t4 who was extremely effective during the competition. And from the 'B' team performances, where the results were not in our favour, there were some very confident performances, in particular Maisie Greaves from 7t7. This is a strong position to be where we have students creating competition for places in the 'A' team – this should only increase the standard of our performances.

Years 7/8 Indoor Athletics
On Thursday 23rd January, students from years 7 and 8 were selected to represent Ashcroft at the borough indoor Athletics competition. The events on offer ranged from 2 – 8 lap races, relay, obstacle, shot, speed bounce, triple jump, and both standing vertical and long jumps. This is perfect opportunity to develop out athletes and prepare them for the summer competitions. There were some very good individual performances from the year 7 girls' team, but the combined efforts did not produce any medal finishes. So, congratulations to Maya Weinburg-Goma 7t1, Hope Glasson 7t5, Mia Macemiute Paznanovic 7t6, Tianna Forbes 7t7 and Eve Bell 7t8, and we look forward to your development in Athletics during term 4 of the curriculum. Our year 8 girls' team was just out of the overall medal position in fourth, but did manage to secure a 'Virtual Bronze Medal' with a total of 581 points – the highest of the teams points being 622 from Burntwood. Very well done to Lottie Harvey 8t1, Katie Hughes 8t2, Avni Bakre 8t3, Lois Johnston 8t4, Emy Laredo 8t4, Emese Parti 8t5 and Lottie Dyer 8t6. The year 7 boys' team produced some good performances in the sprint events of this competition but were out of the medal positions on overall points – the main area for development would be in the events of jumping. But well done to the following for a successful first Athletics competition: Victor Wade 7t2,
Enoch Sampson 7t3, Carl Lita 7t6, Alex Bell 7t7, Zakaria Majourad 7t7 and Toby Waterman 7t8.

Year 7 boys' Football
Ashcroft's year 7 boys' managed to secure a dramatic 4 – 4 draw in their Wandsworth league fixture versus St Cecilia. An incredible finish to the game saw Joshua Materon 7t3 score two wonderful goals from long-range in the final minute! Aron Tekeste 7t4 opened the scoring and put Ashcroft 1 – 0 ahead. However, we soon found ourselves 3 – 1 behind due to naivety and individual errors. Enoch Sampson 7t3 pulled a goal back for Ashcroft to make it 2 – 3, but St Cecilia scored from the penalty spot. Ashcroft dominated the latter stages of the match and were not able to convert their numerous chances, and it looked like the game was out of reach until Joshua's remarkable intervention.

Year 9 girls' Football
Our year 9 girls had their first experience of Futsal this month at Burntwood. Having had no experience of Futsal, the girls picked up the rule changes extremely quickly and were competitive in all the fixtures. Despite not winning a game, the team made it a challenge to score against defensively and this was commented on by the organiser of the tournament who was really impressed with the performance of every member of the team, especially with Witness Robel 9t5 and Myia Williams 9t2 who were given a special mention for their performance.
Year 9 boys' Football
An emphatic 8 – 0 victory for the year 9 boys' football team versus St Cecilia in the Wandsworth league fixture. A convincing performance, and one far improved from the previous match, displaying a combination of very good individual performances and a good team performance. Our goals came from Tino D'Ancona 9t4 (3), Kai Jennings 9t6 (2), Kieron Ngongou 9t4, Milo Koba 9t1, and I am hesitant to say – a penalty, albeit lucky(!), from our goalkeeper, Rauls Gomins 9t6.I look forward to this continued improvement for the next fixture.

Year 10 boys' Football
Congratulations, but also hard luck to the year 10 boys' 'B' team who managed to make the final of their tournament, but just lost out on winning the competition by losing on penalties to Southfields. In the group stages, two wins and a draw was enough to qualify for the semi-final, which resulted in a 1 – 0 win over Ark Putney Academy. The final itself was a tentative approach from both teams which was eventually decided by sudden-death penalties.
A similar scenario for the 'A' team, who had a strong qualification through the group stages with two wins and a draw, but again were defeated on penalties, but on this occasion in the semi-final by Harris Academy Battersea. Without question, our next focus is on how to take a successful penalty! Overall, this was a strong group performance, but the students involved need to appreciate the knock-out style format that this competition requires.
Special reference to both Rauls Gomins 9t6 and Kai Jennings 9t6 from year 9 who adequately participated in this year 10 tournament.

Year 10 boys' Volleyball
This Volleyball competition was designed to find a representative for Wandsworth in the London School Games. A really encouraging performance from Kyane Perera 10t4, Luc Parry 10t4, Larvin Paeste 10t4 and Noah Soliman 10t1, with two wins and a loss from their fixtures, which meant narrowly missing out on the final. However, I would like to put this performance and their progress into perspective, as this team only just lost to Ernest Bevin on a tie break in the third set – a school that invests heavily to Volleyball and often represents at national level. And well done to our other two teams that are developing the technical and competitive aspect of their performances – this strength in depth will help raise standards of all our students.

Years 7/8 Penathlon
Congratulations to Muzammil Ahmad (8t5) Omari Alexander-Walters (7t8) and Mogeeshan Chandamoorthy (7t4) who received 3 gold medals a recent Panathlon competition. They represented Wandsworth in Polybat, Table Cricket and Athletics and qualified for the finals which will be held in March.
The team started the tournament off with a fantastic performance against Sutton in Polybat, where Muzammil won 7-2 and Mogeeshan won 7-3. Muzammil and Mogeeshan remained unbeaten in Polybat against Kingston and Merton with a 7-2 and 7-4 win. Omari displayed a great performance against Kingston and Merton with a 7-3 and 7-2 victory, along with contributing to Wandsworth's gold medal in Table Cricket by achieving high points when batting. Omari also won gold in the standing long jump event by jumping over a metre.
Muzammil and Mogeeshan then achieved the 2 highest scores of any fellow competitor in Javelin with a 9+ metre throw in Javelin (Muzammil) and a 4+ metre throw (Mogeeshan), which led to Wandsworth achieving their gold medal in Athletics.
There was also a sprinting event after in the ambulant race where Wandsworth won with the help of Muzammil, Mogeeshan and Omari.
Good luck in your next performance.

Yahia Elagami 7t5
Congratulations to Yahia who achieved a silver medal at the German Taekwondo Open in Stuttgart. Yahia has now qualified for the Grand Slam in Serbia and we would like to wish him the very best of luck in his next competition. Yahia continues this small, but extremely strong tradition of Ashcroft students competing at the highest of standard in the art of Taekwando.