Sports Report - November 2019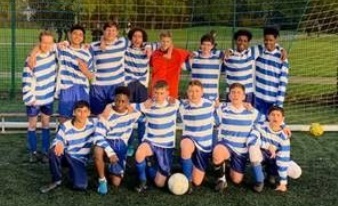 Please find below a report of the sports and activities that have occurred in the PE department during the month of November.
Year 9 Boy's Football
Congratulations to the year 9 boys' football team for victory in their first Wandsworth league fixture of the year. After going 1 – 0 down to Southfields, the students displayed resilience to gain victory by 2 goals to 1 – both goals coming from Kai Jennings 9t6. Please extend further congratulations to Kai who is currently playing for AFC Wimbledon – the most recent result was a 2 – 2 draw against Southend – and we watch Kai's development with huge interest!

Year 8 Boys' Football
An especially disappointing result for the year 8 boys' football team in their first Wandsworth league fixture of the year versus Southfields. In the same fixture last year, Ashcroft were 5 – 1 winners, but on this occasion the result demonstrated a dramatic decline in performance with a 6 – 1 loss! This is a lesson that development must be a continual process and the students must quickly get familiar with the new concept of an 11-a-side match on a bigger pitch. On Monday 11th November, Ashcroft hosted the annual Wandsworth 6-a-side competition – a competition this year group won last year! Unfortunately, with one draw and two losses, the 'A' team were unable to progress from the group stages. On a positive note, the 'B' finished in joint-second place in their league pool, so congratulations goes to Josh Reeve 8t5, Barnaby Coleman 8t3, Dan Likayi, Alessandro Collazo 8t7, Roshaan Basit 8t7, Domink Laska 8t6 and Zeeshan Mahmoud 8t2. It is great to see students such as Roshaan and Alessandro represent the Academy team – well done for your efforts and commitment. But…..plenty of work to do in order to rescue this season, year 8!

Year 7 Boys' Football
After their first victory, the year 7 boys' football team were full of confidence going into their next Wandsworth league football fixture versus Southfields. Unfortunately, after a dominant performance and vast amount of possession, Ashcroft were not able to convert any of the clear chances that were created, and succumbed to a 1 – 0 defeat. Obvious disappointment followed but there were plenty of positives to take from this performance. It wasn't long before an opportunity came to address the issues from the previous match, with the borough 6-a-side tournament at Openview. I am delighted to inform you that the Ashcroft 'B' team were finalists in their respective competition – 2 wins in the group stages was enough to qualify for the semi-final. In a dramatic sudden-death penalty shoot-out versus Graveney in the semi-final, Ashcroft made it to the final with penalties from Ashley Stewart 7t5 and Fred Agbottah 7t4 – and a great save from debutant Sameet Shams 7t4 in goal. Unfortunately, Ashcroft lost 1 – 0 to Bolingbroke in the final but it was a performance that this team can be especially proud of. Other students from this team with Subhan Mehmood 7t4, Aaron Teketse 7t4 and Diego Paris 7t8. Hard luck to the 'A' team, who after a slow start, lost 1 – 0 to Ernest Bevin in their semi-final. Well done to Niyam Patel 7t7, Toby Waterman 7t8, Zack Duke 7t8, Joshua Materon 7t3, Carl Lita 7t6 and Enoch Sampson 7t3. And finally, congratulations to the following players who have been at training for much of the year and we able to make a third Ashcroft team – it is encouraging when a larger number of students are able to represent the Academy teams: Andrew Ross 7t3, Tony Kobs 7t4, Jack Nicholas 7t3, Ezz Mostafa 7t5, Leonardo Souza 7t5 and Abdul Ahmed 7t7.

Years 7/8 girls Football
On Thursday 15th November our year 7 and 8 girls' took to the pitch once more in our second Wandsworth tournament of the year. The girls played in three different groups against some tough and experienced opposition. Our A team saw off a 0-0 draw from Putney High but then suffered defeats from Southfields and Graveney. The Ashcroft B team had equally tough opposition to face in their group. Finally the C team played in a mini league rather than a group, and they did very well. A 0-0 draw against Graveney B and a 1-1 draw against Ark Putney B, the goal scorer being Eve Bell (7t8), saw the C team generate points for team Ashcroft in the Wandsworth league! Ashcroft A and Ashcroft B then met in a final match. A fine strike from Aya El-Hajouji (8t5) was the difference in this closely fought game with the final score being 1-0. The girls now turn their attentions to the winter tournaments which are switching to Futsal, and we hope to continue improving!

Year 7 Girls' Netball
A tough start to their Ashcroft Netball career for our year 7 girls, nevertheless, a valuable learning experience for students. It also gave opportunity for staff to identify those in a competitive setting. The 'A' lost 5 – 2 against St Cecilia, and the 'B' team result was a loss by 8 goals to nil. It is encouraging to see these students attend netball club and I hope this development can assist the performance at the forthcoming borough tournament in December.

Year 8 Girls' Netball
After the initial postponement, this competition took place on Monday 18th November. Not that we can ever predict the outcome of sport, but the PE staff were ever-hopeful of returning as borough champions! It started impeccably well for our 'A' with three wins from three versus St Cecilia's (5-1), Burntwood 'B' (12-0) and Southfields (8-0). Unfortunately, the girls' were not able to create and convert their scoring opportunities from the dominant performance and lost 3-2 to Graveney in the final. The 'B' completed their fixtures with one win (4-0 vs St John Bosco) and three losses to St Cecilia 'B' (1-3); Burntwood 'B' (3-5) and Graveney 'A' (0-10). A positive finish by this team with a 4-0 win over Southfields in the 5th/6th play-off position.

Year 9 Girls' Netball
Thank you to Gelnda Ansu 9t1 and Myia Williams 9t2 who were the only two students from year 9 to compete in this tournament! The remainder of the team were made up of Ashcroft's more-than-capable year 8 team. Two wins against St John Bosco (11-1) and St Cecilia 'B' (6-2), and two narrow defeats against Burntwood 'A' (2-3) and Bolingbroke 'A' (6-8) qualified Ashcroft to the third and fourth play-off. Unfortunately, we were not able to win this game but finishing fourth and playing up an age group for the majority of our students is a big achievement – well done.

Cross-Country
On Saturday 16th November, both Lottie Harvey 8t1 and Harvey Mansiamina 10t2 from Ashcroft Technology Academy represented Wandsworth in the London Youth Games for cross-country. To qualify for his was a real achievement – so well done! The course at Hampstead Heath is demanding, but this challenge was intensified by adverse weather conditions, which made the course wet, heavy and particularly hard to run in. I am pleased to inform you that Lottie ran a very credible 9 minutes and 44 seconds for her 2 km run against a field of 247 competitors. Lottie's contribution enabled Wandsworth girls' U13 team to achieve bronze medal overall – third out of 33 boroughs competing – an excellent result.

Year 9 Boys' Basketball
Unfortunately, the year 9 boys' basketball team missed out on qualification for the finals. Their individual skill set is at a good standard, the target now is to secure a better understanding of basketball strategy when in attacking scenarios. With a win versus Ark Putney Academy, but a loss to Southfields, it meant Ashcroft finished on 2 wins and 3 losses from the five matches. I look forward to further development and the possibility of one or two students from this group being able to join the under-16 team next year.