Sports Report - October 2019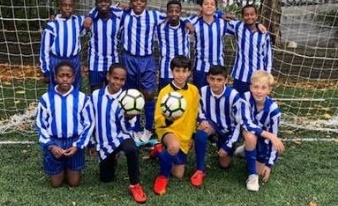 Please find below a report of the sports and activities that have occurred in the PE department during the month of October.
Thank you in advance for taking the time to read this and congratulating the students involved, and please do feel free to encourage students to attend clubs, fixtures and fitness.
Year 7 – 10 Cross-Country
On Wednesday 9th October, students across years 7 – 10 were chosen to participate in the annual Wandsworth borough Cross-Country competition. This event is held at Tooting Bec Common and students from years 7 and 8 are required to complete a 2km run, whereas students from years 9 and 10 complete a 3km run. Students that represent the Academy during this event have demonstrated excellent cardiovascular fitness levels during our internal cross-country event or from the term 1 fitness curriculum. Well done to all our students who qualified and participated in the run – many students were able to improve upon their personal best times. It is an event which is difficult to medal due to the high standard within the borough - many elite athletes who participate at clubs use this as opportunity to register a competitive time. So having said that, I am delighted to inform you that we have had two students from the Academy who did achieve a medal position. First of all, Harvey from 10t2 was able to retain his gold medal from last year with a winning time of 9 minutes and 6 seconds – an amazing time for 3 kilometres. And, a first medal for James from 8t3 who achieved an excellent silver medal with a superb time of 6 minutes and 41 seconds for his 2 kilometre run. In addition to the students named above, I am also pleased to say that we have had three other students who have qualified for the London Youth Games Cross-Country Run at Parliament Hill in Saturday 16th November: Lottie 8t1, Sameed 8t5 and Kai 9t6. We wish all five students the very best of luck in increasing their personal best and possibly qualifying for the next level – the Regional standard.
Year 7 boys' Football
The year 7 boys' football team have made a very positive start to their season with a 6 – 3 win over Harris Academy Battersea in the 9-a-side Wandsworth League. Goals were scored by Aron 7t4, Frederick 7t4 (2) and Enoch 7t3 (3). Carl 7t6 was player-of-the-match but credit goes to an all-round team performance from students including: Tony 7t4, Zach 7t8, Ashley 7t5, Adnane 7t3, Yahia 7t5, Subhan 7t4 and Toby 7t8. The next fixture will be against Southfields on 19th November, followed closely by the borough tournament on 25th November.
Year 9 Boys' Basketball
In the first round of the Wandsworth Basketball competition, the year 9 boys' Basketball team performances faired better than some of the results produced. Of the three group games, Ashcroft were victorious against Ark Putney Academy by 9 points to 6. Unfortunately, two defeats against St John Bosco (2-4) and Bolingbroke (1-7) will make it difficult to qualify for the final. Points were scored by Nosh 9t6, Josiah 9t5 and Fawad 9t7, with good contributions from Rauls 9t6, Leo 9t6 and Stefan 9t5. However, this was a valuable learning experience and I am sure the students have learnt from this experience – and we look forward to round two in November.
Years 7 – 9 Boys' Football
Well done but hard luck to the year 9 boys' 6-a-side football teams. Going into the competition as winners from year 8, the students were quite rightly full of confidence. The 'A' team progressed well from the group stages with three wins and a draw from their four group matches, but unfortunately lost 1-0 to Bolingbroke in the semi-final. The eventual winners were Graveney. An excellent performance from Kai Jennings 9t6 was extremely encouraging but ample assistance from Milo 9t1, Rauls 9t6, Shakur 9t1, Kieron 9t4, Abdunoor 9t2 and Ishmael 9t3. It was ever so pleasing for Ashcroft to field three teams which demonstrates our aim of extending the range. The 'B' team were not quite so successful and managed one win, a draw and two losses in the group stages – not enough to qualify for the semi-final. But well done to Moeed 9t1, Brando 9t1, Oliver 9t2, Daishan 9t2, Tino 9t4 and Mustafa 9t5. And I am so proud to see the efforts and participation of Daniel 9t2, Toni 9t6, Lazaro 9t7, Romeo 9t2, Yassine 9t2, Shiv 9t1 and Mohamed 9t3 – you achieved success in being the only team to take points from the eventual winners of the 'B' league – fantastic!
Years 7 – 9 Girls' Basketball
It is the first time that our year 8 students have entered the borough girls' Basketball competition. Many of these students in the competition from other schools will be composed of year 9 students so I am confident that this experience will bode well for next year. Of our four games, Ashcroft won one game – defeating Southfields 6 points to 4, and were defeated in three – these were to Ark Putney Academy (10-2) and narrowly to St John Bosco (2-4) and Harris Academy Battersea (2-6). Of particular mention, was a very encouraging number of performances from Angelica 8t6. And well done to the following students for their participation: Margaret 8t5, Angel 8t5, Sarika 8t6, Amilah 8t4, Sagal 8t4, Jamila 8t4 and Frankie-Leigh 8t4.
Years 7/8 Girls' Football
A really encouraging first competitive tournament for our year 7 and 8 girls' football teams. The attendance to football training and the number of students selected to participate in this event was excellent, and bodes well for future competitions. In particular, performances from Eve 7t7, Maisie 7t6 and Sundas 8t6 were fantastic! But other students that will benefit from this experience were Sarika 8t6, Jamila 8t4, Agatha 8t5, Eman 8t6, Zoe 8t5, Alissa 8t1, Caprice 8t5, Aya 8t5, Basma 7t8, Hanna-Delilah 7t3, Fateha 7t5 and Tashifa 7t1. Results included two losses to Southfields and Ark Putney Academy but an encouraging first win against Thomas Christian.
Years 9/10 Girls' Football
In the recent Wandsworth borough girls' football tournament, Ashcroft experienced three losses from the group matches, but remained in positive mood from the competition. The students demonstrated good resolve and never gave up in their efforts. Our losses were to Southfields (0-3), Ark Putney Academy (1-4) and Burntwood (1-2). Our goals came from Myia 9t2 and Grace 9t5. Other students involved include Amalie 9t4, Glenda 9t1, Witness 9t5, Lynna 9t7, Shayla 9t2, Ria 10t3 and Dunya 9t5.
Can I make special reference to Miss Watkinson who is driving the profile of girls' football at the Academy and is an excellent role model for these students? Sadly, no photograph opportunities!
Year 11 Boys' Football
After the success of last year, where both 'A' and 'B' teams reached the semi-final of this tournament, students entered this tournament in confident mood. Unfortunately, I am not in a position to report similar successes. Of their four matches, the 'A' team won one game, drew one and lost in two. The two defeats came from Graveney and Ernest Bevin, and the victory was against Chestnut Grove. There should have been a second win but Southfields were resilient in defence and held on to a draw. Well done to Mekhan 11t7, Endry 11t6, Roberts 11t6, Mourad 11t4, Labeeb 11t4 and Joshua 11t3. The 'B' team picked up one victory against Southfields but were defeated by Ernest Bevin and Graveney. Well done to Ziad 11t3, William 11t4, Mohammed 11t7, Faris 11t1, Joseph 11t3, Daniel 11t2 and Raouf 11t7.
Boxercise
This year has seen the introduction to Boxing at the Academy – more in the form of fitness and boxercise. Can I initially say a huge thank you to Mr Barry for your time, efforts and enthusiasm (as ever!) in promoting this extracurricular club? There has been great interest and attendance from students who have been put through their paces with a number of strength and conditioning exercises – with some very rewarding comments from after these sessions.
Yahia 7t5 - Taekwondo
Huge congratulations to Yahia from 7t5 who achieved gold medal in the Lea Valley Taekwondo Championships for the under-36kg category. Yahia is part of the Peak Performance Taekwondo team which a number of the Academy students have excelled in. I would like to wish Yahia good luck and hope for similar successes in his next competition in Manchester on 10th November.