Sports Report - September 2019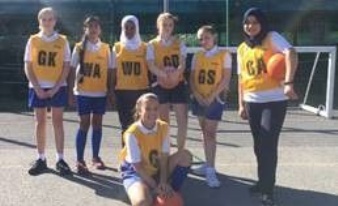 Please find below a brief report of the sports and activities that have occurred in the PE department during the month of September.
Thank you in advance for taking the time to read this and congratulating the students involved, and please do feel free to encourage students to attend clubs, fixtures and fitness. As you will read, a brief but successful start to the academic year for Ashcroft Academy and I hope to report further achievements for October. Already in the diary for next month is Basketball, Cross-Country, Netball and Football.
Year 8 girls' Netball
The year 8 girls' Netball team have continued their success from where they left off last year with two wins in a friendly versus St Cecilia. The 'A' team won 7 – 3 with goals coming from Yasmin Bouchair 8t3 and Angel Deugoue 8t5, with further contribution from Avni Bakre 8t3, Lois Johnstone 8t4, Margaret Amara 8t5, Angelica Obijiaku 8t6 and Sarika Ponde 8t6. The 'B' team were also victorious with a 7 – 4 victory with goals coming from Emy Laredo 8t4 and Bushra Behliven 8t7. A first game for Nina Milland from 8t2 and ample assistance from Nida Barlas 8t1, Frankie Jenner 8t4, Amilah Gebeyhem 8t4 and Suranne Hollingsworth. It is great to see such healthy numbers and competition for Year 8 Netball and I look forward to hopefully reporting further success in the Wandsworth borough tournament on Monday 14th October.
Year 9 girls' Netball
Two very encouraging positives from the first fixture of Year 9 Netball this year. Initially, it was great to see the team participate with more confidence and demonstrate their potential, and secondly, it was opportunity to promote four students from year 8 into the year 9 squad. The 'A' team won an entertaining encounter 18 – 16 with goals from Sahana Manimaran 9t3, Emese Parti 8t5 and Lottie Dyer 8t7. And a very impressive overall display from Penny Naeche 9t2, Myia Williams 9t2, Witness Roble 9t5, Haja Bangura 9t3, Lottie Harvey 8t1 and Katie Hughes. And I am delighted to report that the 'B' team demonstrated excellent resilience by coming from 7 to 3 goals down, and securing a creditable 9 – 9 draw. Well done to Glenda Ansu 9t1, Erileda Xhafaj 9t1, Natalie Trsic 9t3, Amalie Wilson 9t3, Grace Townley 9t5, Dunya Shahbaz 9t5, Eva Wolf 9t6 and Amelie Archer 9t4.
Years 10/11 boys' Basketball
Round one of the Wandsworth Basketball tournament was one of mixed results and performances with two wins and a loss. The first match was a 4 – 2 victory against Southfields with baskets from Mohamed Abdalla 10t3 and Chris Conde 10t3. The second match saw a more convincing performance with a 9 – 6 victory against a competitive Harris Battersea team, with a dominating performance from Chris Conde 10t3. Unfortunately, the third and final game of the evening was a 8 – 4 loss to Ark Putney Academy, despite a good display from Larvin Paeste 10t4 with two baskets. Victories in the forthcoming fixtures in November versus St John Bosco and Bolingbroke 'could' be enough to qualify for the final, but we need to work on our targets if we are to be closer to the expected finalists from Ark Putney Academy. Please wish the following the best of luck in round two: Kamal Abdikadir 10t2, Romell Savoury 10t1, Leo Nicholls 10t3, Adrian Pinnock 10t2 and Ibrahim Ismail 11t1.
Outside the Academy
For those of you who are unaware, Mohamed Nour of 13t2 is a previous world champion in Taekwondo and is currently representing Team GB. I am delighted to inform you that Mohamed won gold medal at the recent Polish Open, beating ranks four, three, two and one of the tournament along the way – and this should improve Mohamed's overall ranking. Please do congratulate Mohamed if you see him – he is performing at the highest level and has potential to be very successful in his chosen field. His next target is to break into the Grand Prix events that the structure of Taekwondo offers which allows more ranking points to be scored.