Berlin Trip - July 2019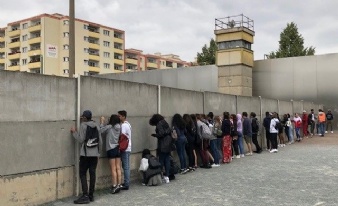 This week a group of Year 10 students headed to Berlin for three days of history and RS enrichment.
Students set out in the early hours of Sunday morning and hit the ground running in Berlin with a walking tour of key historical and religious sites in the city. Students visited Bebelplatz, where in May 1933 the Nazis burned the books of those they disliked or disagreed with. This introduced the group to the Nazi's use of censorship and repression. Students learned that the book burning was to foreshadow later events under Nazi rule; first, we were told, they destroyed books. Later, they would destroy people. Students visited memorials to some of those whom the Nazis murdered; homosexuals, the Roma and Sinti and the Jews of Europe. The evening culminated on a visit to the Reichstag, the German parliament building, and the backdrop to Hitler's rise to power. Students arose early the next morning for a visit to Sachsenhausen concentration camp. Here they learned about the cruel methods used by the Nazis to punish and murder those interned here during the 30s and 40s. Students learned about the Barman declaration, a key theological and political statement devised by German Christians in WW2, and about one of its author's Martin Niemoller, who was interned at Sachsenhausen. This was followed by a tour, focusing on the Berlin Wall, and its purpose in and impact upon, a divided Germany. Students spent their final day of the tour visiting the Stassi Museum; discovering the lengths the state police went to to ensure the population of East Germany were monitored and controlled. The trip allowed students to experience, first hand, key historical sites and to consider the importance of themes from their religious studies course such as peace and reconciliation.