Sports Report - March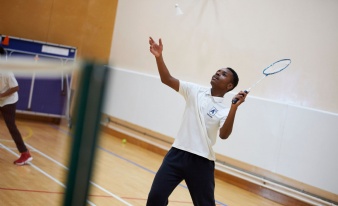 Please find below a report of the sports and activities that have occurred in the PE department during the month of March.
Year 8 Basketball
It is encouraging to report that the year 8 boys' Basketball team have completed their first competitive fixture at the Academy. Unfortunately, the score line was a 24 – 12 defeat to Ark Putney Academy, but this competitive experience was the priority in preparation for next year's U14 Wandsworth Borough Championships. However, there were some promising signs and the goal is to apply the existing skills and adopt the correct game management for the next fixture. Our points were scored by Thiago Cafaro 8t6, Noshairwan Jajja 8t6 and Fawad Sharif 8t7. Other members of the team included Trishaun Charles 8t6, Josiah Barnor 8t5, Joao Noguiero Silva 7t6 and Santiago Cunha 7t4. I look forward to seeing you at practice and improving the result in the next game.
Year 7 Football
The year 7 boys' football team finished the season with a 4 – 3 victory versus Chestnut Grove in the final fixture of the Wandsworth League. A dominant second half performance enabled Ashcroft to come from 2 – 1 down at half-time and secure victory – goals coming from Lucas Balogun 7t7, Sameed Tahir 7t5 (2) and Ramy Hamidi 7t2. Year 7 finish the league with four wins and three losses but it has been a positive year overall, unfortunately, it will not be enough to qualify for the final this year – needless to say we were borough champions in the 6-a-side format back in December – and I look forward to further success when students enter the 11-a-side league in Year 8. Particular mention to James Hall from 7t3 who is the year 7 Player of the Season – James performs with maturity and a defensive style that has benefitted the team immensely this season.
Year 8 Football
A particularly positive month for the year 8 boys' Football team this month. A friendly match versus St Cecilia's produced a 5 – 2 win – which was additionally pleasing as we lost the Year 7 final last year to this team – so this demonstrates the progress shown in the previous 12 months. Goals were scored by Ismael Bygrave 8t3 (3), Kieron Ngongou 8t4 and Tenashay Martins-Walker 8t3.
I am also delighted to report that the year 8 boys' Football team are CHAMPIONS of Wandsworth and won the Borough 6-a-side tournament on Friday 22nd March. With two wins and a draw in the group stages, we qualified for the semi-final in first place. The semi-final versus Ernest Bevin was a tense affair, at the end of both regulation time, and golden goal – it went to penalties. Fortune was on our side and with some excellent saves from Rauls Gomins 8t6 in goal, the winning penalty and route to the final was scored by Abdunoor El Fizazi 8t2. Ashcroft dominated the final and even had a genuine goal disallowed! Again, penalties deciding the outcome, it was justice that Shakur Chong 8t1 scored the winning penalty to win the overall tournament. Other members of the team include Mustafa Agabne 8t5, Kieron Mgongou 8t4, Tenashay Martins-Wlaker 8t3, Tino D'Ancona 8t4, Milo Koba 8t1, Daishan Da Silva 8t2, Brando Shahini 8t1 and Yahmari Congo 8t1.
That is now a double victory for both Years 7 and 8 this year.
Year 9 Football
In March, the year 9 boys' Football team had a friendly arranged against St Cecilia. It was a good chance to give opportunity to students who have not participated for the Academy this year. The final score was a credible 3 – 3 draw with goals coming from Jacob Pongolati 9t1, Alem Demiralp 8t3 and Adem Ouali 9t5.
In the recent 6-a-side competition, the year 9 boys' qualified with ease in the group stages, earning three wins from three matches. In qualifying for the semi-final, unfortunately, we were not able to replicate the same performance and lost 1 – 0 to Bolingbroke – who eventually went on to win the tournament. Rather disappointing not to retain what this year group won last year, especially after a successful year in the 11-a-side format, where year 9 should qualify for the finals in May.
Year 10 Football
After a positive start in the fixture versus Southfields, where Labeeb Ahmed 10t4 put Ashcroft 1 – 0 ahead, some poor defending resulted in a 7 – 2 defeat. It has been a challenging year for this year 10 team, but at last, I do have some positive news to report. The style of football required in the 6-a-side format was definitely something that suited us. I am delighted to report that the 'A' team have reached the semi-final of the tournament after two wins and a draw, and will face St John Bosco after Easter. And the 'B' team have also qualified for the semi-final after a win and two draws – and will go on to face Ernest Bevin. Good luck – I will inform you of the dates and results after the Easter break.
Year 9 Girls' Football
The year 9 girls' Football team played an experienced Ark Putney Academy side – many who are playing with academies at a very high level. Even though the score line was not in our favour, it was a good insight for our students in terms of skill level and tactics. There were still some positive performances – notably from Anastasia Ball 9t4 in goal and Giorgia Circelli 9t3 as striker. But well done to all involved which includes: Mariam Baig 9t1, Ellie Wells 9t2, Elmedina Zymeri 9t3, Anastasia Ball 9t4, Nafisa Isse 9t6 and Olivia Wojtowitz 9t6.
Year 7 Netball
On Thursday 21st March, the year 7 Netball team participated in the Streatham and Clapham Netball competition. I am delighted to inform you that that 'A' team won all six of their matches and were overall champions. It was a tournament with strong competition which puts into perspective the quality of performance from Ashcroft students. In addition, the 'B' team won five of their six fixtures which meant they finished in a very respectable second position.
In what has been a very successful month for this girls' Netball team, success was also evident in the South London League fixtures versus Bolingbroke – where the Year 7 team even defeated a year 8 team from Bolingbroke. However, defeat to Graveney means the girls' finish the league with 3 wins and a loss from their 4 fixtures, and that there is more work in training to do. But overall, well done for a fantastic first year!
Year 8 Netball
Two fixtures in March versus Bolingbroke and Graveney produced two defeats in the South London League. However, it is pleasing to see a greater turnout of students to both training and competition, and that you have regained some enthusiasm that was certainly evident in Year 7. Hopefully, this renewed interest maintains and it produces a positive result versus Chestnut Grove in April.
Rowing
The exciting news to report from Rowing is that the winter training and fitness approach will soon come to a conclusion. After Easter, students will transfer these skills to the waters of the River Thames and start rowing from Barnes Boathouse. Such an excellent opportunity that I know all students will thoroughly enjoy and provide their full commitments.
Jiujitsu
On Sunday 24th March, ten students from Ashcroft made the journey to the University of East London to compete in the All Starts Brazilian Jiujitsu European Cup. After several individual students that medalled, the cumulative efforts from the team won third place overall in the Junior's category. This is no small feat considering that all the other participating Jiujitsu clubs were full-time academies with students training 2-3 times per week and year-round, compared the weekly training that students at the Academy receive. So well done to the following and we watch their progression with interest: Abduwahab Moalin 9t7, Sam Gomes Pereira 9t7, Shamoieal Mahmood 9t6, Ruben Yatali 9t6, Emir Han 9t5, Almir Baliu 9t5, Kyane Perera 9t4, Lewis Fletcher 12IB1, Yasir Najami 12t3 and Ghiajhinn Yatali 10t3.
Panathlon
Congratulations to students from Ashcroft who competed in the Champions Cup Panathlon on Monday 25th March. A combination of Polybat, Athletics, Power Wheelchair races and the Bean Bag throw were activities tasked with our competitors. After another fantastic display, Ashcroft just missed out on gold medal and finished second behind Sutton. We look forward to improving for next year and hopefully make the London finals. Well done to Laiba Mian, Muzammil Ahmad, Mati Koba, Dhimosten Petko, Mohamed Houssein, Nojus Seimar, Mazen Tewfik, Muhiim Sheikh, Hassan Malik, Emmanuel Mensah and Milly Woods.