British Science Week 2019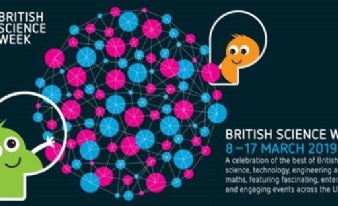 British Science Week 2019 kicked off with a Year 8 CREST Award Day in the AA on the theme of infectious disease and how to "Stop the Spread". Continued...
Year 8 Crest Award Day
The students worked in sub-groups of their T's to represent their houses as they completed the challenge of designing, building and testing a hand washing device for a school playground in Kenya. Each team had 125 credits to spend at the "materials shop" and had to build a device that collects, stores and dispenses water successfully and efficiently. Lots of brainstorming of ideas and impressive models made!
Build-a-Drone Workshop
Students participated in a Build-a-Drone workshop delivered by Mr Eno Umoh, the founder of Global Air Media, an American drones company. Our students learned about the different types of drones, explored the current uses and discussed potential future uses. They then built their own drones which they flew around the Ashcroft Auditorium.
Biology Challenge
This week students participated in a Biology Challenge in the LRC. They demonstrated good effort in content recall and application towards some rather challenging questions. These 206 students sat two online exam papers and their scores will be ranked against other schools nationwide, when the results are released in April. Keeping our fingers crossed for Ashcroft!
Post 16 Busking
Post-16 busking provided our Year 12 students with a chance to showcase the very best of Biology, Chemistry and Physics. Year 7 students were invited to the event to be enthralled, inspired and motivated by role model Scientists from the Sixth Form. The various acts on show included: human origami; forensics murder mystery; exploring waves with airzookas; forces in Sumo-wrestling; health checkups and augmented reality organ systems, among others. The event was a great success with the human origami team garnering the most number of tokens from Year 7, thereby winning the Post-16 Busking event 2019!!
Year 12 STEM Careers Speed Networking
Monday saw the arrival of 23 STEM ambassadors from a wide variety of backgrounds and careers, providing valuable insight and advice to our Y12 students about careers in STEM. Engagement was fantastic and our students gained much from the event, as they revolved between engineers; medical doctors; research fellows; software developers and many more.