Sports Report - December 2018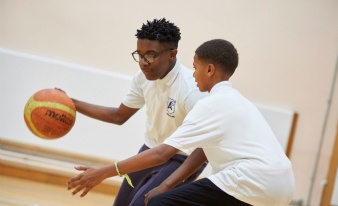 Please find below a report of the extensive sports and activities that have occurred in the PE department during the month of December.
Year 7 Netball
Congratulations to the Year 7 Netball team who finished third in the Wandsworth Borough Netball competition on Monday 3 December. Ashcroft finished the pool with two victories against St Cecelia and Burntwood, but a narrow loss to Graveney. This meant Ashcroft qualified in second place in the pool and progressed to the 3rd/4th play-off. There was no score during normal time of this match but I am delighted to say that Ashcroft scored the vital goal during extra-time which meant an overall finish of 3rd. Well done to the following students who should feel extremely proud of this achievement in what was their first competitive tournament: Lacy Finch 7t1, Lottie Harvey 7t1, Dolores Turkson 7t1, Jaida Anderson-Thomas 7t2, Katie Hughes 7t2, Avni Bakre 7t3, Yasmin Bouchair 7t3, Lois Johnson 7t4, Margaret Amara 7t5, Angel Deugoue 7t5, Emese Parti 7t5, Angelica Obijiaku 7t6 and Lottie Dyer 7t7.
Year 7 – 9 Boys' Basketball
Commiserations, but at the same time, congratulations to the Year 9 boys' Basketball team who lost the final of the Wandsworth borough competition by just one point! After a slow first quarter, Ashcroft were down by 11 points to 2, but I am pleased that students battled well and their abilities shone through in the remaining quarters. However, the final score was 29 – 28 to Ark Putney that means Ashcroft finish second overall. However, this group of students have shown passion and dedication to improving their skills and I am sure there will be further positives in future competitions. Well done to Mohammed Abass 9t1, Jacob Pongolati 9t1, Romell Savoury 9t1, Kamal Abdikadir 9t2, Afie Mohamed 9t2, Adrian Pinnock 9t2, Mohammed Abdalla 9t3, Leo Nickells and Larvin Paeste 9t4.
Special mention to Miss Jurd who has been a huge influence on this group of students' progress this year, and provided the encouragement and necessary skills/tactics to get this far. Thank you.
Years 10 – 11 Boys' Basketball
It gives me great pleasure to inform you that the Year 11 boys Basketball team were victorious in their final and are borough CHAMPIONS! Ashcroft defeated Southfields by 32 point to 28. After a positive first quarter, Ashcroft found themselves 15 points down with just one quarter to play. Remarkably, we found the resolve to win by 4 points and finish in gold medal position. This team will now progress to the London Games where we have previously faced immensely tough competition – so it will be nice to face the next challenge and see how students have developed in two years. Huge congratulations to Muyiwa Obamakin 11t3, Giorgi UgreKhalidze 11t3, Crispin Low 11t5, Hanan Manan 11t5, Sidali Hammia 11t7 and Kyle Vannucci 11t7.
Year 7 Boys' Football
Mixed news for the Year 7 boys' Football team this month. After three wins from three, Ashcroft suffered their first defeat in the Wandsworth League to Ernest Bevin by 4 goals to 3. Ashcroft goals were scored by Jayden Mulyanti 7t6, Sameed Tahir 7t5 and Santiago Cunha 7t4.
However, I am delighted to report that Ashcroft are borough CHAMPIONS! Ashcroft hosted the Wandsworth borough 6-a-side competition and secured victory with a 1-0 win in the final versus Graveney – the winning goal coming from Lucas Balogun in 7t7. In the group stages, Ashcroft were victorious against Southfields and ARK Putney, and drew against Graveney. From these results, Ashcroft finished second in the group and went on to play Ernest Bevin – who not only finished first in their group, but also defeated us in the 9-a-side format just recently. Ashcroft reached the final with 2-1 win with goals coming from James Hall 7t3 and Sameed Tahir 7t5.
Year 8 Boys' Football
The Year 8 boys' Football team narrowly lost 2 -1 to Ernest Bevin in the Wandsworth league – our goal coming from Milo Koba in 8t1. It was a competitive performance from our students, and with a number of absentees, allowed others from the year group to represent the Academy at Football. I am confident that the next victory is just around the corner.
Year 9 Boys' Football
The Year 9 boys' Football team remain undefeated in the Wandsworth League with three wins and a draw. The Year 9 team are the only year group to defeat Ernest Bevin and did so by three goals to nil – goals coming from Jacob Pongolati 9t1, Khalid Kahin 9t1 and Duncan Seruwagi 9t5. The second game of this month resulted in a 3 – 3 draw against St John Bosco with Ashcroft conceding with the final kick of the game! On this occasion goals were scored by Duncan Seruwagi 9t5, Khalid Kahin 9t1 and Danish Malik 9t4. It is a possibility that Ashcroft and St John Bosco will challenge for the title which could even come down to goal difference.
Year 10 Boys' Football
Hard luck to the Year 10 Football team who lost 3 – 1 to Ernest Bevin – Ashcroft's goal scored by Labeeb Ahmed 10t4. It is now three losses from three in the Wandsworth League but it is worth noting that the performances are improving and I hope to report a positive score-line in the new year.
Post 16 Football
After a positive first win, the sixth form Football team could not emulate their first performance. After being 2 goals ahead, Ashcroft ended the game by losing 6 goals to 2 versus Chestnut Grove. Well done and thank you to those students who represented with little notice.
Outside of the Academy
Huge congratulations to Isaac Gamble from 8t1 who has recorded a time of 37.87 seconds in the 50-meter breast stroke swim. This ranks Isaac 65th in the country for his age group which is a wonderful achievement and I know Issac will continue to make progress with his excellent work ethic and mind set.
Also, well done to Dylan Gould-Davis from 8t6 who has been chosen to represent Middlesex county in Squash. He is currently ranked 170th in his division but with recent success at tournaments, his National Ranking should improve naturally.
Good luck to both students with your future performances.