Sports Report - October 2018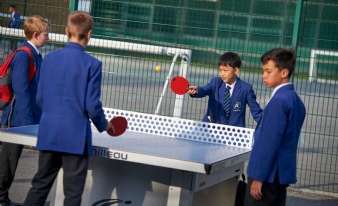 Please find below a report of the extensive sports and activities that have occurred in the PE department during the month of October.
Year 7 Football
An extremely positive start for the Year 7 boys' football team in the Wandsworth Football League with victory over Southfields Academy by 5 goals to 1. Goals were scored by Sameed Tahir 7t5 (3) and Mouadh Nour 7t3 (2), with a very accomplished performance from James Hall from 7t3. November fixtures will include St John Bosco and ARK Putney Academy and hopefully this year group can maintain their good start to the year. I would encourage other students to continue attending football club as the initial squad of players is certainly not guaranteed for all future fixtures.
Year 9 Football
A second victory from two games for the Year 9 boys' football team in the Wandsworth Football League with a 4 – 2 victory versus Harris Academy Battersea. Goals were scored by Khalid Kahin 9t1, Danish Malik 9t4 (2) and Duncan Seruwagi 9t5. Well done in particular to Rommell Savoury from 9t1 who displayed a welcome defensive performance. Currently awaiting any fixtures for November, however, Ernest Bevin wait in December.
Year 10 Football
Unfortunately, a defeat in the first game of the Wandsworth Football League for the year 10 boys' team by 2 goals to nil against ARK Putney Academy. Encouraging news in the fact that Roberts Gomins from 10t2 has fully recovered from his injury which saw him miss the whole sporting calendar throughout year 9. Let's try to avoid any errors in the forthcoming fixtures which have resulted in conceding goals from the first match.
Year 11 Football
Mixed news from the year 11 boys' football team throughout October. The first 11-a-side football match in the Wandsworth Football League was a defeat against Harris Academy Battersea. After being 2 goals to nil up at half time, the final result ended 5 – 3 to Harris, our goals coming from Umair Rana 11t4, Boris Mijalcev 11t2 and Liam Duke 11t7.
However, the Wandsworth borough 6-a-side competition yielded more positive news. Congratulations to Fozey Abdalla 11t1, Abdifitah Abdullahi 11t2, Luiz De Souza 11t3, Victor Figueredo 11t3, De Sharn Brown 11t4, Nathanael Pongolati 11t4, Emmanuel Boketsu 11t4 and Faizaan Butt 11t5 who were champions for 'Team B' tournament with a nail-biting penalty shoot-out victory versus St Cecilia. And it was nearly two victories for Ashcroft who narrowly lost 1 – 0 to Southfields Academy in the final of the 'Team A' tournament – but well done also to Urim Kuka 11t1, Boris Mijalcev 11t2, Giorgi Ugrekhalidze 11t3, Gerald Lamptey 11t3, Asa Carnegie 11t4, Jamal Semambo 11t4, Idiris Moalin Ali 11t5 and Liam Duke 11t7.
Year 9 Girls' Football
The last day of the month in October was the year 9 girls' Wandsworth football tournament at Southfields Academy. Unfortunately, the results were not in favour of Ashcroft with defeats to Burntwood, Graveney and Southfields, but the students involved gained a valuable experience. Encouraging performances from Mariam Baig 9t1, Anastasia Ball 9y4 and Ria Seeborun 9t3 and I am sure there will be more positives to report from future competitions. Other students to reference include Elmedina Zymeri 9t3, Ebtesam Naouli 9t5, Olivia Wojtowicz 9t6 and Ellie Wells 9t2.
Year 7 Netball
Well done to the year 7 girls' netball team who were victorious in the first fixture of the South London League against Chestnut Grove. The score finished 8 – 5 with goals from Emese Parti 7t5 (5) and Katie Hughes 7t2 (3). Congratulations to the remaining students of this team who include Lottie Harvey 7t1, Lacy Finch 7t1, Jaida Anderson-Thomas 7t2, Lois Johnson 7t4, Margaret Amara 7t5, Angel Deugoue 7t5, Angelica Obijiaku 7t6 and Lottie Dyer 7t7.
Year 8 Netball
On October 8th, the year 8 girls' netball team took part in the Wandsworth Netball Tournament held at Burntwood School. Unfortunately, the results did not go in Ashcroft's favour, but the encouraging fact was that the team's performances were progressive throughout the tournament after a tentative approach. With a little more training and confidence, there is hope that results will fare better in the South London fixtures. However, there were some very positive individual performances from Penny Naeche in 8t2 and Haja Bangura in 8t3.
Year 7 – 9 Girls' Basketball
Well done to the year 9 girls' basketball team who played their first tournament on October 17th, at Southfields Academy. For most of the team this was their first time playing in a competitive setting outside of lessons. Each game they showed great improvement and enthusiasm. Unfortunately, they finished the day with 1 draw and 2 losses. With some regular training they are more than capable of improving their results in further fixtures. Well done to Jana Behery 9t7, Sharnye Adegoke 9t7 and Khia De Souza 9t7 who all scored outstanding baskets.
Year 10 – 11 Girls' Basketball
On the 3rd October, the year 10-11 girls' basketball team played in the Under 16's Wandsworth Basketball League at Southfields Academy. After a very overwhelming start against Southfields in game 1, the girls' were very enthusiastic and keen to get feedback on how they can improve in their next game. It was very encouraging to see them implement these skills and tactics in the following games. With regular training and participation in basketball club there is hope they will improve for future fixtures. Well done to all, particularly Deniz Uysal 10t6 and Finda Sam-Sumana 10t7 for their standout performances. And special mention for Jana Behery from 9t7 and Sharnye Adegoke 9t7 who were participating against older girls from years 10 and 11.
Year 7 – 9 Boys' Basketball
Congratulations to the year 9 boys' basketball team who attended their first competitive basketball tournament on Wednesday 10th October. Round one resulted in one win against Graveney and a draw versus St John Bosco from the first two matches, which provides a good foundation for the remaining rounds of this competition. Well done to Mohamed Abdulla 9t3 who was pivotal in his performances, scoring and encouraging students in attending clubs initially. Round 2 is in November and hopefully this group of students can build on the initial experience and continue to develop their skills and understanding. Students involved were Mohammed Abbas 9t1, Jacob Pongolati 9t1, David Mensah 9t2, Afie Mohamed 9t2, Kamal Abdikadir 9t2, Adrian Pinnock 9t2, Maurice Richardson 9t3, Mohammed Abdalla 9t3 and Chris Conde 9t3.
Years 9 and 10 Volleyball
Well done to students from years 9 and 10 who participated in a Volleyball festival on 16th October at Ernest Bevin College. The festival was designed for skill improvement rather than a competitive element and I hope students gained a valuable experience from this. It is pleasing to see the enthusiasm from students since this and the attendance to extracurricular Volleyball clubs. There will indeed be a chance to participate with a competitive nature which will be reported later in the academic year. The students involved were as follows: Noah Soliman 9t1, Sujgeevan Vanthiyathevan 9t1, Mohid Mahnood 9T3, Kyane Perera 9t4, Ziad Sajed 9t4, Luc Parry 9t4, Rihan Ahmed 9t4, Shyam Chudasana 9T4, Lukas Deegan 10t4, Maria Choudhry 10t4, Dante Smith 10T5 and Deniz Uysal 10T6.
Years 7 – 11 Cross-Country
On 3rd October, selected students across years 7 – 11 were chosen to participate in the annual Wandsworth borough Cross-Country competition. This event is held at Tooting Bec Common and students from years 7 and 8 are required to complete a 2km run, whereas students from years 9 – 11 complete a 3km run. Students that represent the Academy during this event have demonstrated excellent cardiovascular fitness levels during our internal cross-country event or from the term 1 fitness curriculum. Well done to all our students who qualified and participated in the run – many students were able to improve upon their personal best times. Even though we have had a winners' medal recently with Mohammed Nour, it is a difficult event to medal in due to the high calibre within the borough. However, I am delighted to inform you that we have had our best return with 4 students' performances resulting in medals. Congratulations to Sameed Tahir from 7t5 who achieved a silver medal with an impressive time of 5:58.24, just 3.1 seconds off the lead time. Congratulations also goes to Ryan Madouri 9t5 and Cheon Nagarajah 11t1 who both achieved bronze medals, with times of 8:45.35 and 8:53.46, respectively. Ryan just missed out on second place by 0.26 seconds! And a huge mention for Harvey Mansiamina from 9t2 who won gold medal with an excellent time of 8:12.60 – the lead time of the whole event being from a year 11 student of 7:45.32 – Harvey has made great progress in the last 12 months and hopefully he can maintain this improvement and challenge this time when he is in Year 11 himself.