FAB Award Event 2018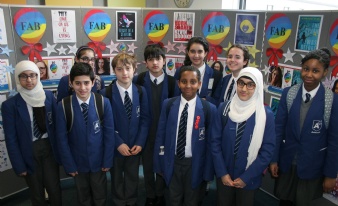 Ten students represented Ashcroft Academy at the recent Annual FAB Awards for the best in Teenage Fiction from 2017.
Seven Wandsworth schools attended the event at the Professional Centre in Tooting where three of the seven shortlisted authors spoke to over 100 excited students. During a spirited morning, each school gave a presentation on a nominated book; Ashcroft's being 'Holding up the Universe' by American Jennifer Niven. The authors present, Lisa Heathfield, Kevin Brooks and Penny Joelson, also talked about their nominated books and the writing process in general.
The event was concluded by the countdown to the winner, who proved to be Karen M. Mcmanus with her very popular novel 'One of Us is Lying'. Karen, being US-based was unable to accept her trophy in person but sent a video thanking everyone for their votes. Our Fab- ites returned to the Academy with brimming goodie bags and the legendary FAB Cake, which was made this year by our very own Cakemaker extraordinaire, Miss John.