Horniman Museum Trip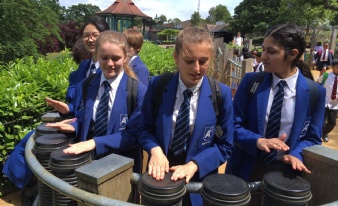 Last Friday, the Year 9 GCSE Music class visited the Horniman Museum in Forest Hill to explore their vast instrument collection and to take part in a Gamelan workshop.
The students were interested in all of the instruments on display and learnt a lot about the development through the ages of the instruments. After a quick lunch in the sunshine the students made use of the outdoor instruments before taking part in a Gamelan workshop in the hands-on base. A Gamelan is the traditional orchestra of Indonesia and the Gamelan the students studied at the museum was from Bali.
Together, the students learnt and performed a very challenging piece of music called 'Baris' which would be used to accompany a war dance performed in traditional costume.