Army Reserve Centre Trip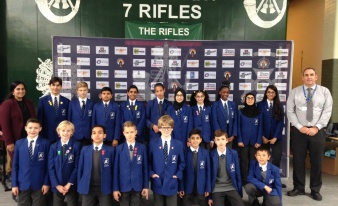 As part of the STEAM Club Rocket Car Club and subsequent recent test trial, 18 students attended the Bloodhound SSC regional finals at the Army Reserve Centre, West Ham this week. Bloodhound SSC is a nationwide schools STEM competition and we are very proud that our STEAM Club members made it through to this stage.
Our best car, named 'Jet Car' was made by Harriet Mensah, Mashood Khokhar, Faiz Khawaja and had a speed of 39.04 mph. Considering that 5,000 rocket car kits had been distributed to schools originally, we are very proud that our students achieved this success. They thoroughly enjoyed the challenge and enriching experience and have already began to plan their entries for next year. They are certainly eager to nab 1st position in the future.