Paper Butterflies are FAB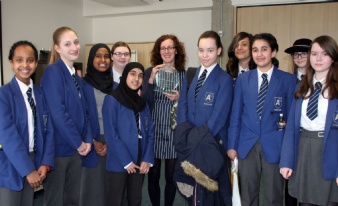 Eleven of our Ashcroft students were selected to attend the Annual FABulous book award on Tuesday which was held at the Wandsworth Professional Development Centre in Tooting. They joined six other local Secondary schools to hear the announcement of the Winner of the Best Teenage Fiction Book for 2017.
During an action packed morning each school made a presentation, championing one of the shortlisted books and Ashcroft wowed the audience with a spirited drama performance of their book, 'The Door to Where' by Sally Gardner, Four of the seven authors shortlisted were present on the day and the trophy was awarded to Brighton based author, Lisa Heathfield who was clearly moved by her win with the very popular book 'Paper Butterflies'.
Students returned to the Academy laden with books, autographs and pieces of the legendary FAB cake!