ARTiculation winner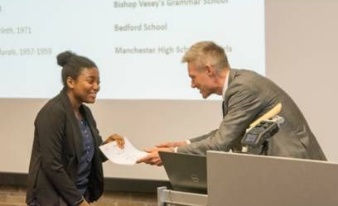 Well done to Helen Webley-Brown announced ARTiculation 2017 winner.
Helen Webley-Brown, representing Ashcroft Academy, along with eight other students from state maintained and independent schools all spoke eloquently at the ARTiculation Final 2017 last Friday. The final took place at Clare College, University of Cambridge where Helen supported by her peers and staff members gave a riveting presentation on Berndnaut Smilde, 'Nimbus Sankt Peter' (2014).
Helen was overwhelmed as the announcement was made she had won this year's competition. The Prize challenges 16 to 19 year old students to present in public on a work of art, architecture or artefact. Over 4,000 young people from 200 schools take part in ARTiculation activities every year so this was quite an achievement for Helen.