Jack Petchey 'Speak Out' Challenge Regional Finals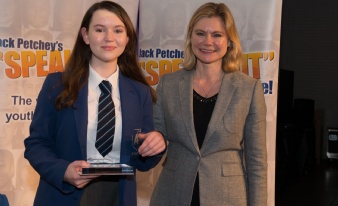 Well done to Ally Stuart and Javaun Jackson for their performances in the Jack Petchey 'Speak Out' regional finals at Burntwood School this wee.
Ally achieved second place, and though Javaun did not get a place in the top 3, both students were given certificates commending their achievement and the opportunity to get their picture taken with Justine Greening.
Both students have worked together, building upon all this effort and feedback to craft genuine, thoughtful and provocative pieces. On Wednesday evening, they were finally given the opportunity to share their hard work in front of a panel of judges.